Strictly Knockouts arrives in June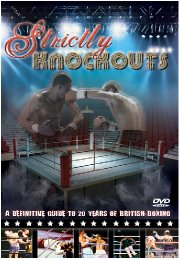 Strictly Knockouts
The Definitive Guide To 20 Years Of British Boxing
Released:
1st June 2009
Through:
Kaleidoscope Home Entertainment
Get ready to go the distance with the hardest hitting boxing DVD ever made,
Strictly Knockouts
.
Celebrating some of the finest bouts in British Small Hall Boxing, this sensational DVD features the greatest unseen knockouts in boxing history. 
Compiled and presented by Eurosport's legendary boxing commentator, Steve Holdsworth; the astounding knockout clips have been amassed over the last 20 years of British Boxing - it pulls no punches and will no doubt keep you on the edge of your seat from whistle-blow to finish! 
Strictly Knockouts
features classic fights from renowned champions. These include:
Chris Eubank's
incredible entrance on the UK stage against
Darren Parker,
and
Johnny "The Entertainer" Nelson's
Sheffield homecoming first round demolition of
Cordwell Hylton,
as well as
appearances by
Kirklaind Laing
,
Michael Sprott
and
Carl "The Cat" Thompson.
Witness the early careers of some of the outstanding British and World Champions the UK has ever produced, at their most explosive best.  
Don't just take our word for it -
Strictly Knockouts
is Pound-for-Pound the best guide to 20 exciting years of British Boxing, so be prepared to be knocked out by the action as it comes thick and fast!