The Shield: Season 7 out in June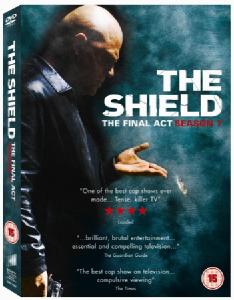 The Shield: Season 7
Starring Emmy® and Golden Globe® Award Winner
Michael Chiklis
Debuts on 4 Disc DVD on 8 June, 2009
Packed with All-New Bonus Content
Including Featurettes on Final Season and 2 Part Feature Length Final Episode
Plus 51 Deleted Scenes with Commentary by Creator Shawn Ryan
Los Angeles' most controversial and corrupt cops are back one last time on 8 June 2009 when Sony Pictures Home Entertainment debuts
The Shield Season Seven: The Final Act
on DVD. The final season of this gritty, hard-hitting police drama is loaded with exclusive bonus features, including commentary on every episode, plus 51 deleted scenes with optional commentary by creator Shawn Ryan and two all-new featurettes looking at shooting the final season and on being on set for the last episode.
The Shield Season Seven: The Final Act
will be released as a four-disc collection containing all 13 episodes.
The Shield
follows a tough crime-infested L.A. police precinct and its elite team of cops who are undeniably effective when it comes to cracking tough cases, whilst being equally as 'dirty' to get results. The show was created and written by Shawn Ryan (TV's "The Unit") and executive produced by Ryan, Kurt Sutter, Charles Eglee, Adam Fierro and Kevin Cremin. Emmy® and Golden Globe® winner Michael Chiklis (
Fantastic Four
) stars as rogue Detective Vic Mackey, who administers his own brand of justice as he tries to keep balance of power in the criminal hierarchy of L.A.'s seedy Farmington Division. Mackey and his team - which includes Emmy® nominee CCH Pounder (TV's "ER"), David Marciano (
Lethal Weapon 2
), Benito Martinez (
Million Dollar Baby
), Walton Goggins (
The Bourne Identity
), Jay Karnes (
The Next Best Thing
), Catherine Dent (
Someone Like You
) and Michael Jace (
Forrest Gump
) - write the rules as they go along.
Vic faces threats from all directions in this hard-hitting final season: the damaged protégé Detective Shane Vendrell, the honourable Captain Claudette Wyms intent on cleaning up the force and the Mob who have 'greenlit' (
marked for death
) him and his family. Can Vic survive? All will be revealed!
For the first time, every episode of this multi-award-winning series will also be available to buy in one deluxe DVD collection when
The Shield: Complete Seasons 1-7 Box Set
is released on 8 June, 2009. This essential collector's item boasts a wealth of exclusive and unmissable extras, including a never-before-seen disc containing two featurettes: "Rampart," a documentary on the police scandal that inspired the series, and "The Barn," a final set tour.   
DVD Special Features:
·        Widescreen Presentation
·        Audio English 5.1 (Dolby Digital)
·        Cast and Crew Commentary on Each Episode
·        51 Deleted Scenes with optional commentary by creator Shawn Ryan
·        Featurette:
Nobody Expects to Lose, Nobody Expects to Die: The Shield's Final Season
·        Featurette:
Last Call: The Final Episode
·        Closed Captioned
The Shield Season Seven: The Final Act
episodes include:
Coefficient of Drag                 Animal Control                        Party Line
Snitch                                      Bitches Brew                           Petty Cash
Money Shot                             Parricide                                 Possible Kill Screen
Genocide                                 Moving Day                             Family Meeting
Game Face (2 part feature length final episode)