The Inbetweeners Series 2 and Box Set out in May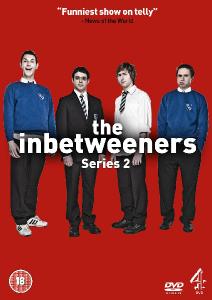 The Inbetweeners - Series 2
& The Inbetweeners Series 1-2 DVD Box Set
Released exclusively by 4DVD on Monday 18th May 2009
The BAFTA nominated hit comedy drama series
The Inbetweeners
returns for a second series with a host of exciting new storylines and is available to own on DVD from
Monday 18th May 2009
, with the
Series 1-2 Box Set
released on the same date by 4DVD.
Following the huge success of the first series, the award-winning
The Inbetweeners
promises more mishaps, embarrassing attempts to pull and the vital adult initiation - to lose their virginity and become men. 
The Inbetweeners was voted the
Best New British Television Comedy at the 2008 British Comedy Award
s and series two picks up and continues where the first series left off. Centred at Rudge Park comprehensive school, where four
dysfunctional friends are all desperately trying to work out how to fit in. 
Will (
Simon Bird
), is still trying to be part of the crowd, but now also has a new challenge: to raise the social standing of his new friends to 'cool' - it's not going to work. At his side is Simon (
Joe Thomas
) who is still hopelessly besotted with Carli D'Amato (
Emily Head
) and anything she thinks is cool he immediately goes along with. Jay's (
James Buckley
) still boasting stories of impressive exploits and sexual conquests that are just a little too fantastical to believe. Making up the quartet is Neil (
Blake Harrison
), an easy going lad who is not exactly the brains of the outfit and whose dad is definitely not gay. 
In series 2 the
lads attempt to assert their maturity in a clubbing trip to London.  The French exchange student is a bit too much of a threat, and they endure the infamous sociology and geography field trip to Swanage in the hope of finding the legendary Swanage 'MILF'.  Work experience week sets up new challenges for Will and Neil and even the underage disco proves socially fatal for them.
Facing new tests everyday they also have to deal with the day-to-day traumas of teenage life, families and exams. 
Written and Executively Produced by
Damon Beesley
and
Iain Morris
for Bwark Productions, the show has gone on to win Best New Comedy & Best Male Newcomer for
Simon Bird
at The 2008 British Comedy Awards, he is also nominated for an RTS award for best comedy performance (against Peter Kay).  Damon and Iain are also co-producing 'Free Agents' with Big Talk Productions a sitcom for Channel 4 and producing 'The Scum Also Rises' a new sitcom for BBC2.         
The Inbetweeners Series 2 DVD:
The Inbetweeners Series 1-2  Box Set DVD:
Release date:                   Monday 18th May Release date:       Monday 18th May
RRP:                                                   £19.99                                   RRP:                      £29.99
Format:                                               1 Disc set                              Format:                  2 Disc set
Cat Number:                                      C4DVD10271                      Cat Number:         C4DVD10272 
Extras available:
Writing featurette - a five minute feature showing the development of a scene from the writing stage
Behind the scenes about the Littlehampton boat sequence with interviews
Video Diaries - the boys create a video diary 
Pro Evo tournament - the writers Iain Morris and Damon Beesley take on The Boys at Pro Evo
Reaction to 2 Girls 1 Cup
Audio Commentary, Bloopers and Deleted Scenes
Notes to editors:
The Inbetweeners Cast List
Will Simon Bird
Jay James Buckley
Neil Blake Harrison
Simon Joe Thomas
Carli Emily Head
Mr Gilbert Greg Davies
Mark Donovan Henry Lloyd-Hughes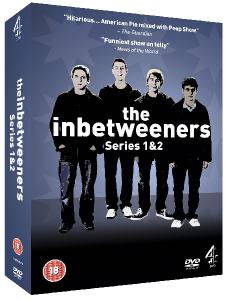 THE INBETWEENERS - Characters

WILL (Simon Bird)

Will McKenzie is on a bad run. His parents have divorced and, to compound matters, his (totally hot) mum has moved him out of an independent school and into a local comprehensive. Will's last school did a good job preparing him for the outside world - he's smart, confident, quick-witted and outspoken. Unfortunately for Will this isn't the outside world, this is the sixth form at Rudge Park Comprehensive where all these attributes make the kids, and teachers, deeply suspicious of him. Through dogged determination (and a bit of stalking) Will has now made friends with Simon, Jay and Neil, who if anything are a little more tragic than him. Unfortunately he's also made enemies of the sixth form nutter (Mark Donovan) and his psychotic head of year, Mr Gilbert.
SIMON (Joe Thomas)

Simon is Will's closest friend at Rudge Park. Despite being coerced into looking after Will when he first arrived at school, Simon has warmed to him. He sees Will as more on his level than his other mates. Someone he can talk to about more than just "clunge", football and Playstation, even though he does spend most of his time droning on about his love for Carli D'Amato. It's an unrequited love, obviously, but who knows, if Simon wasn't such a loser around Carli maybe something could happen. However that's about as big an "if" as you're ever likely to find.
JAY (James Buckley)

Everyone had a mate like Jay Cartwright. The sort of friend that in later life you look back on and think "'why did I hang around with him?". A potty mouthed, verbal bully, Jay is constantly bragging about his sexual conquests and daring feats, although there seems to be a disturbing lack of evidence for his hyperbolic claims. He has a natural antipathy towards Will, mainly because Will has no hesitation in pulling Jay's lies to pieces.
NEIL (Blake Harrison)

Neil Sullivan is the boy for whom the phrase "in a world of his own" was invented. Not exactly the brains of the outfit, Neil is always twenty seconds behind everything and everyone. But just when you think he's really stupid he says something that almost makes sense. Much to Neil's annoyance, his unconventional dad - a single, middle-aged man struggling to raise a family after his wife walked out on them - is the butt of the other's crude jokes, who relentlessly cast aspersions on his sexuality just because he "wears tight shorts" and "plays badminton on a Tuesday".

CARLI D'AMATO (Emily Head)

Carli is the gorgeous girl next door who Simon has had a crush on for as long as anyone can remember. Carli, like all girls her age, is more sophisticated than our hapless four, preferring guys just that bit older, at university, and with their own (not tiny and yellow) cars.
MR GILBERT (Greg Davies)

Mr Gilbert is the psychotic head of sixth form at Rudge Park. He's one of those teachers who's just a bit fed up with what for him has been a fairly thankless career. To say he doesn't suffer fools would be an understatement; he doesn't suffer anyone, and he gives Will a particularly tough ride for no other reason than he can.
MARK DONOVAN (Henry Lloyd-Hughes)

Donovan is the resident school psycho. He bullies his way through the new and the weak kids and is the on-off boyfriend of the most popular girl at school, Charlotte Hinchcliffe. Charlotte is inconceivably attracted to Will, a bittersweet triumph that puts our hero immediately on a collision course with Donovan.
The Inbetweeners Cast biogs:

Simon Bird (Will)

Simon was named Best Male Newcomer at the 2008 British Comedy Awards, and is the youngest male winner of any award in the event's 18 year history. He is a regular performer on the live comedy scene, both as a stand-up (he was runner-up in the 2008 Chortle Student Comic of The Year competition) and with his sketch group The House of Windsor, whose last show, The Meeting, was a site-specific installation set in a boardroom. It received a clutch of five-star reviews and sold out its entire run at the 2008 Edinburgh Festival.

Joe Thomas (Simon)

Joe Thomas is a prolific comedy writer and writer-performer, developing original sitcom ideas with some of the UK's top independent production companies and performing with his writing partners Jonny Sweet and Simon Bird (as House of Windsor). Jonny and Joe have been writing and performing comedy together since they met at Cambridge University in 2003 and were one of five featured acts on Freemantle's International New Media venture Project V. They staged their first hour-long comedy show at the Edinburgh Festival in 2006 and were subsequently nominated for the Writer's Guild Best Comedy Newcomer Award. They have since staged two more highly acclaimed comedy shows at the Edinburgh Fringe Festival.
James Buckley (Jay)

James was just 11 years old when he appeared in his first West End play
Whistle Down the Wind
at the Aldwych theatre. Soon after this he was also cast in
Les Miserables
at the Palace Theatre. His television credits include 2001's
'Orrible
with Johnny Vaughan, Skins, and new BBC sitcom
Fresh
. James attended the Performing Arts College in Essex and enjoys writing music and playing guitar with his band.


Blake Harrison (Neil)

During his time at East 15 Acting School Blake was involved in a number of theatre productions including
Market Boy
,
The Good Person of Sichuan
,
On the Razzle
and
Richard III
. He also played the part of Bob in
The Accidental Lives of Memories
at the White Bear theatre. More recently he has been involved in a short film
Her Eyes Met with Mine
.
Emily Head (Carli)

Emily has appeared several times at the Theatre Royal Bath with the Dorothy Colebourne School of Dance, including
An Inspector Calls
,
Carousel
and
Fiddler on the Roof
. Her television roles include
The Invisibles
(Grace)
Doc Martin
(Poppy) and
Trial and Retribution
(Natalie). Emily has won numerous local drama competitions including the prestigious Mid-Somerset Festival where she won Solo Shakespeare 2002 and Solo Acting 2003.