Seven Poundson DVD and High Def Blu-ray this May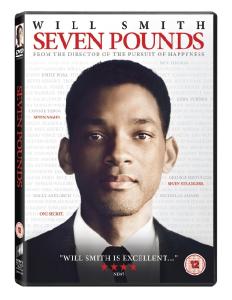 Seven Pounds
Available to buy on DVD and Blu-ray / rent on DVD 25th May 2009
Two-time Academy Award® nominee WILL SMITH (
Hancock, Hitch, The Pursuit of Happyness
) is reunited with acclaimed director GABRIELE MUCCINO (
The Pursuit of Happyness
) in the emotional drama
Seven Pounds
, the inspiring tale of one man's quest to help the lives of seven others, available on DVD and Blu-ray from 25th May, courtesy of Sony Pictures Home Entertainment.
WILL SMITH is joined by a fantastic supporting cast, including ROSARIO DAWSON (
Sin City, Men in Black II
), WOODY HARRELSON (
No Country for Old Men, The People vs. Larry Flint
), MICHAEL EALY (
Barbershop 2
) and BARRY PEPPER (
The Green Mile, Saving Private Ryan
).
Ben Thomas (SMITH) is an IRS agent with a fateful secret who embarks on an extraordinary journey of redemption by forever changing the lives of seven strangers. Along the way he meets and sets out to help Emily Posa (DAWSON) and Ezra Turner (HARRELSON). When one of the seven captures his heart he must decide if he should reveal his secret, even if it means giving up on his plan.
Seven Pounds
is an emotionally charged love story with a truly inspirational ending.
Available on DVD and Blu-ray,
Seven Pounds
includes a host of added value including a commentary, deleted scenes and featurettes. Exclusive to the Blu-ray release is a Digital Copy of the film for PC, PSP®, Mac or iPod® and BD-Live: Access Exclusive content and downloads.