Action thriller Defiance out in May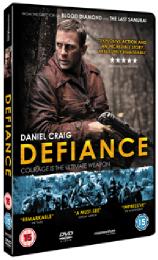 "Explosive action, an incredible story. Absolutely unmissable" *****
Sam Mann - Capital Radio
DANIEL CRAIG, LIEV SCHREIBER, JAMIE BELL
STAR IN THE ACTION THRILLER
DEFIANCE
Directed by EDWARD ZWICK
ON DVD & BLU-RAY MAY 18th 2009
Directed and co-written by
Edward Zwick
(
Blood Diamond, The Last Samurai
) the tense action-thriller
DEFIANCE
stars
Daniel Craig
(
Quantum of Solace, The Golden Compass
),
Liev
Schreiber
(
X-Men Origins: Wolverine
(2009),
The Manuchurian Candidate
) and
Jamie
Bell
(
Jumper, Flags of our Fathers
) and is coming to DVD & BLU-RAY this May.
DEFIANCE
is based on an incredible true story of family, honour, vengeance and salvation in World War II. Managing to escape certain death, three brothers take refuge in the dense woods they have known since childhood. There they begin their desperate battle against the Nazis. At first it is all they can do to stay alive. But gradually, as whispers of their daring spreads, they begin to attract others - men and women, young and old - willing to risk everything for the sake of even a moment's freedom. As a brutal winter descends, they work to create a community, and to keep faith alive when all humanity appeared to be lost.
Eldest of the Bielski brothers, Tuvia (
Daniel Craig
) is a reluctant leader whose decisions are challenged by Zus (
Liev Schreiber
), who worries that Tuvia's idealistic plans will threaten them all. Asael (
Jamie Bell
) is the youngest, caught between his brother's fierce rivalries. As Nazi forces advance on the partisans, the brothers primitive struggle to survive becomes something far more consequential - a way to avenge the deaths of their loved ones by saving thousands of others.
DEFIANCE
features an outstanding supporting ensemble cast that includes,
Alexa Davalos
(
The Chronicles of Riddick
),
Jodhi May
(
Flashbacks of a Fool
),
Allan Corduner, Mark Feuerstein
,
Sam Spurell, Iddo Goldberg
(
Secret Diaries of a Call Girl
) and newcomers
Mia Wasikowska
and
George MacKay.
The DVD includes a special 26 minute feature: '
Return to the Forest: The Making of Defiance', an exclusive insight into the intensely physical and emotionally charged filming process.
The BLU-RAY
edition also includes additional special features
: 'Scoring Defiance' explores celebrated composer James Newton Howard's approach to writing the vivid musical score, and also compelling interviews with 'Children of the Otriad' plus a 'Bielski Partisan Photo Gallery' (as photographed by Director Ed Zwick).
Praise for Defiance:
"An unpretentious and exciting Second World War movie based on true events.Original and different, Craig is a commanding presence."
Sunday Express
"Craig is classy and charismatic. Live Schreiber is absolutely superb. The ensemble acting is excellent and the tension and narrative is skillfully maintained by director Edward Zwick. ****"
Daily Mail
"Splintering action...remarkable... brilliant...Daniel Craig, Liev Schreiber and Jamie bell are as heroic and resourceful as Robin Hood and his Merry Men"
The Times
"You could not ask for a more compelling story. Powerful performances. Superbly done. Intensely atmospheric."
Sunday Telegraph
"A cracking film. An important film. You will laugh and cry and be moved to tears."
The Sun
Full details below:
DVD
/
BLU-RAY
Price
£17.99 / £24.99
Special Features
(DVD)
Return to the Forest: The Making of Defiance (26mins)
Special Features
(Blu-ray)
Scoring Defiance (7mins)
Children of the Otriad (13mins)
Bielski Partisan Photo Gallery (as photographed by Director Ed Zwick)
Catalogue Number
MP825D / MP825BR
Barcode
5060116723083 / 5060116724448
Running Time
131mins / 137mins
Audio
5.1 + Audio Description
Aspect Ratio
16:9 (Original Aspect Ratio 1.85:1)
DEFIANCE is released on DVD & BLU-RAY
by Momentum Pictures on 18th May 2009,
Certificate UK 15 / Eire 15