The Official Dakar 2009 Review out now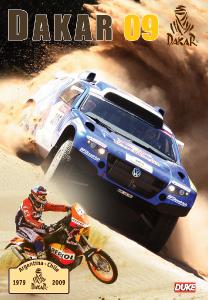 EXPERIENCE AN HISTORIC
JOURNEY
The Official Dakar 2009 Review released on DVD
For the first time in its 30-year history the Dakar Rally crossed the Atlantic Ocean for the deserts, mountains and rocky terrain of South America in 2009.
Now you can relive this incredible journey with the action-packed Official DVD Review from Duke. This is the full story of a 9,500km journey through Argentina and Chile, an odyssey which wrote a new chapter in the story of the World's greatest motorsport adventure.
The superb footage captured in the Official Review of the 2009 Dakar Rally lets viewers join the hundreds of competitors in cars and trucks, on motorcycles and quads, as they depart Buenos Aires for a 15 day battle with the most treacherous terrain and inhospitable conditions.
The route threw every challenge imaginable at the crews as they cross Patagonia, traversed the Andes and braved the Atacama Desert, one of the driest places on Earth, and the exceptional footage featured on the DVD lets you share the adventure and hardships of the rally raid.
The location may have changed, but the geography of South America was not so different to the African landscape - the cars, bikes, trucks and quads still had to deal with huge dunes, rock-strewn tracks, shifting sands and terrifying precipices.
Volkswagen renewed its bid to break the Mitsubishi dominance, and two-times World Rally Champion Carlos Sainz produced a stunning drive which looked certain to bring the German marque victory. However, a shocking fall ended the Spaniard's heroic efforts, opening up an intense battle to the finish line between the VWs of Giniel de Villiers and Mark Miller and the awesome Hummer of US star Robbie Gordon.
The Official DVD Review includes footage of a desperate Sainz bidding to return to the rally, before accepting the heart-breaking fact his event was over.
The bike class was dominated by the outstanding Marc Coma, who led the way throughout on his KTM. As well as reliving the Spaniard's amazing ride, our incredible footage brings you the fightback by Cyril Despres and the brilliant performance of American Jonah Street, plus much more.
Then, of course, we also have the hard-fought battles for honours in the all-terrain truck categories.
The Official DVD Review is packed with action footage, including plenty of on-board sequences, and interviews with the stars to create a comprehensive look back at a history-making event. The DVD includes an excellent bonus feature Uncut and Unseen, showing more than 20 minutes of unseen action footage and interviews from the Dakar Rally 2009
Dakar Rally (Argentina - Chile) 2009
is
Out Now
on DVD, priced at
£16.63
and will be available from leading video outlets or direct from Duke Video: Tel 01624 640 000, fax 01624 640 001 or email
liam[at]moc.oedivekud
. Visit
www.dukevideo.com
online.