The Cheerleaders Box Set arrives in May on DVD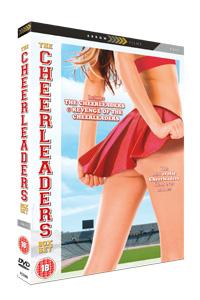 Arrow Films is proud to announce the DVD release of
The Cheerleaders Boxset
If you liked the shower scene in Porkys, here's a whole two movies' worth, in this beautifully presented boxset featuring all of the cheerleaders you could ever hope to feast your eyes on. In these erotic 70's movies, sexy, naughty and mostly naked cheerleaders get up to mischief, seduce all the guys and have sex everywhere you can think of. They just don't make movies like this anymore!!
The Cheerleaders
Jeannie joins the school cheerleading squad as a means of finally attaining the success and social independence that was out of reach in the strict household her parents maintain. The liberated attitude of her new friends becomes all the more evident when they come up with a plan to help the football team win the big game by kidnapping and having sex with everyone on the opposing team until they're too tired to even take the field.
Directed by
Paul Glicker
| Starring
Stephanie Fondue
and
Jovita Bush
Revenge of the Cheerleaders
The fun-loving Cheerleaders spike the lunchroom spaghetti sauce with a concoction of pot, pills, and powders, hold wild orgies in the boys' locker room, and never attend their classes. The school board considers a merger with Aloha's biggest rivals, the vocational school Lincoln High. The girls prove their importance to Aloha spirit at the crucial moment of the big basketball game. However, there are more sinister forces are at work when the school is blown up and the principal is kidnapped. It's up to the cheerleaders to save the day.
Directed by
Richard Lerner
| Starring
Rainbeaux Smith
and
Jerii Woods
Available on DVD on
4th May 2009
PRODUCT INFORMATION

Release Date:
4th May 2009

Cat No:
FCD286
RRP:
£15.99

Running Time:
166 mins

Certificate:
18
Special Features:
Cheerleaders Trailer