Beware of Demons, Especially on DVD and Blu-Ray this April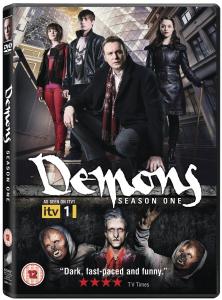 Demons
Season 1 Available to buy on DVD and Blu-ray 6th April 2009
There are supernatural forces at work in
Demons
, the fantastical, action-packed six-part TV series available on DVD and Blu-ray on 6th April 2009, courtesy of Sony Pictures Home Entertainment.
Demons
puts a contemporary spin on Bram Stoker's legendary story, taking place above and beneath the streets of modern-day London. PHILIP GLENISTER (
Life On Mars, Cranford
) is Rupert Galvin, a larger-than-life American with a tragic past and a zero tolerance policy to the rabble of 'half-life' entities that exist all around us. When he explodes into the life of his teenage godson Luke (CHRISTIAN COOKE,
Echo Beach, Doctor Who
), little does the boy know what will be thrust upon him.
Luke soon learns that he is the last descendent of Abraham Van Helsing, the fearless vampire killer who originally took on the deadly Count Dracula, and that it is his destiny to smite the half-lives who stalk our streets. With this news, Luke and his best friend Ruby (HOLLIDAY GRAINGER,
Waterloo Road
) are catapulted into a world filled with vampires, demons and zombies. At the same time they must struggle to balance a normal life with hardcore training led by the beautiful but frosty Mina Harker (ZOE TAPPER,
Affinity, Survivors
).
Featuring a host of incredible guest stars, including MACKENZIE CROOK (
The Office, Pirates Of The Caribbean
) as the sinister Gladiolus Thrip, a vampire with a deep-seated hatred for the Van Helsings and all they stand for,
Demons
is a full-blooded fantasy adventure that really has bite!