New book by His Holiness the Dalai Lama arrives in April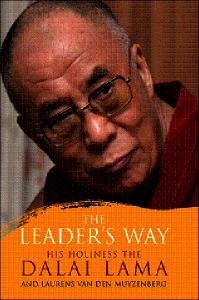 THE LEADER'S WAY
by His Holiness the Dalai Lama
and Laurens van den Muyzenberg
Business, Buddhism and Happiness in an Interconnected World.
£8.99 9-781-85788-518-7 B Format PB Publishing 30th April 09
This updated and expanded edition of
The Leader's Way
includes the Dalai Lama's views on the danger of an economic system without moral values and the need for a responsible free market economy.
Born out of a decade of discussion and debate between an international management consultant and the head of state and spiritual leader of Tibet,
The Leader's Way
is an inspiring manifesto for change which can have an impact at every level.
The Leader's Way contains not only fascinating anecdotes from His Holiness the Dalai Lama, including his meetings with Mao, but also a timely and powerful focus on the importance of combining an economic system with moral values.
The Leader's Way
is:
The Art of Making Right Decisions in our Lives, Our Organizations and the Larger World
"As a study of Buddhism and its relevance to globalisation, it has a lot to say.
It applies the concepts of Buddhism to business: decision-making using concepts such as 'the Right Way', interdependence and impermanence. To simplify, it's a Hippocratic, do-no-harm creed: Companies should have integrity, leaders mindfulness, to act for the greatest good. Many readers will value it.
There's much to learn."
Director Magazine
His Holiness the Dalai Lama
, Tenzin Gyatso, is one of the world's best-known leaders who has led his people for over 50 years as the head of government-in-exile and spiritual leader of Tibet. His Holiness was awarded the Nobel Peace Prize in 1989. More recently, in 2007, he received the Congressional Gold Medal, the highest civilian honour in the US, for his advocacy of human rights.
Laurens van den Muyzenberg
is an international management consultant who has lived and worked all over the world and speaks seven languages. His projects primarily concern the improvement of corporate governance and leadership performance.
See
www.leadersway.org
for more information and view the exclusive 'Making of the Book' video at
http://uk.youtube.com/watch?v=JjkW4qroC_g