Garfield romps straight to DVD in April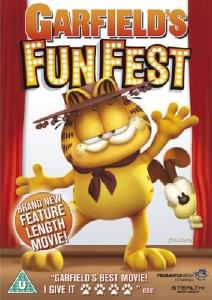 **EXCLUSIVE TO DVD**
EVERYONE'S FAVOURITE FAT CAT CELEBRATES 30 YEARS IN THE BUSINESS
WITH BRAND NEW FEATURE-LENGTH MOVIE!


GARFIELD'S FUN FEST - RELEASED BY FREMANTLE MEDIA ENTERPRISES ON MONDAY 6TH APRIL


Hold onto your lasagne! Everyone's favourite morning-loathing, Odie-taunting, tart-tongued tabby is back for a slew of hilarious new antics in

Garfield's Fun Fest
, his newest full-length computer animated feature film, released exclusively on DVD by Fremantle Media Enterprises and Go For It Entertainment.
Written by creator Jim Davis — Garfield, Odie, Jon, Arlene and the rest of the gang - yes, Nermal, too - are gearing up for the town's annual talent show, Fun Fest. Having previously won every year, Garfield is convinced he can't lose with his routine, especially with his long-time sidekick (and girlfriend) Arlene in tow. But when Arlene wants to change the act and Garfield refuses, Arlene steps out with the super-suave new cat in town, Ramon, for a show stopping Tango.
Not one for solo performances, Garfield sets out with Odie on a quest to regain his lost humour mojo and get the funny back before show time. With hours ticking away until show time, Garfield and Odie set out to find the magic pond of funny water. In a hilarious journey of riddles, jokes (and a meeting with Freddy the Frog) - can Garfield learn the lessons of true comedy and make it back in time to capture first prize and win Arlene back?
Now
celebrating his 30th Anniversary
, Garfield is one of the most beloved and enduring cartoon icons with the most widely syndicated comic strips in the world -
263 million readers
and counting - and more
than nine million DVDs sold worldwide
to date.
Garfield's Fun Fest
, for ages 6-12, is presented by Paws Incorporated and in association with The Animation Picture Company/Davis Entertainment.
Garfield's Fun Fest
, was executively produced and written by Garfield creator Jim Davis, directed by Mark A.Z. Dippe, co-directed by Kyung Ho Lee and produced by John Davis and Brian Manis.
Special Features
§ Theatrical trailer (2 Mins)
DVD Details
Released:
Fremantle Home Entertainment
Released:
6th April
Cert:
U
Running Time:
78 Mins
B/Code:
5030697016195 Price:
£12.99
Screen Format:
Wide screen
Cat Number:
FHES2579
Subtitles:
English, French, Spanish Format:
1 x DVD
Audio:
Stereo
Aspect Ratio:
16:9