Joan Collins and Heather Locklear return in Dynasty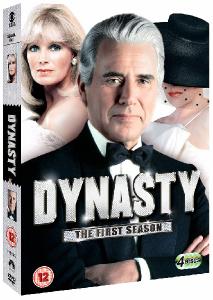 Paramount Home Entertainment Presents
"DYNASTY SEASONS 1 & 2"
The 80s are back…
~ Joan Collins and Heather Locklear return as
Dynasty Seasons 1 & 2 arrive on DVD on March 9 2009 ~
High drama, screeching catfights and giant shoulder pads make a glamorous comeback when
DYNASTY SEASONS 1 & 2
debut on DVD for the first time ever in the UK.
The massively successful and completely addictive drama from legendary producer Aaron Spelling (
Beverly Hills 90210, Melrose Place)
and creators Esther and Richard Shapiro was a massive '80s hit that quickly became a pop culture phenomenon.
These ultimate fan collections see British legend Joan Collins joining the cast in the explosive second season as Alexis Carrington Colby, ex-wife of family patriarch Blake Carrington (John Forsythe) and nemesis of Blake's current wife, Krystle Carrington (Linda Evans). The second season also sees the arrival of Heather Locklear as Krystle's niece, Sammy Jo.
Exploring the conflicts, passions, motives and tensions of the Carrington family, the show's immensely entertaining plot lines follow the scheming and conniving members of the oil-rich clan as they seek to maintain their positions of wealth and power and destroy their enemies in the process.
Containing special features including 'Creating Dynasty', the
DYNASTY
DVDs are the perfect gift this Mother's Day, so sit back and enjoy the memories.
Dynasty Seasons 1 & 2 are available to buy on DVD on March 9 2009
from Paramount Home Entertainment
- ENDS -
DVD TECHNICAL DETAILS
Season 1
Title
Dynasty Season 1
Release Date
March 9 2009
Discs
4 disc set
RRP
£24.99
Cert
12
Sound
Dolby Digital English 5.1 Surround
Running Time
Approx. 11 hrs, 47 minutes
Running Time - Special Features
Approx. 34 minutes
Special Features
- Pamela Sue Martin Profile
- Al Corley Profile
- Family, Furs and Fun: Creating Dynasty
Season 2
Title
Dynasty Season 2
Release Date
March 9 2009
Discs
6 disc set
RRP
£24.99
Cert
12
Sound
Dolby Digital English 5.1 Surround
Running Time
Approx. 16 hrs, 92 minutes