The Children out 30th March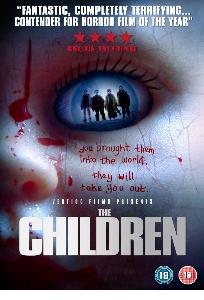 VERTIGO FILMS AND CONTENDER HOME ENTERTAINMENT PRESENTS
STARRING:
JEREMY SHEFFIELD
/
RACHEL SHELLEY
/
STEPHEN CAMPBELL MOORE
/
EVA BIRTHISTLE
/
HANNAH TOINTON
/
DIR. TOM SHANKLAND

On DVD From:

30TH MARCH 2009
CONTENT
The making of The Children
Location Featurette
Paul Hyatt talks Prosthetics
Snow Set Design Featurette
Deleted Scenes
Tom Shankland's On-Set Lair
Working with Children Featurette
The Christmas holidays. What starts as a relaxing house party for two families coming together to celebrate the festive season gradually turns into a horrifying fight for survival as one by one the children mysteriously fall ill and begin to turn against their parents with increasingly disturbing consequences.
Starring Eva Birthistle
(Ae Fond Kiss)
, Stephen Campbell Moore
(Bright Young Things)
Jeremy Sheffield and introducing Hannah Tointon.
Written and directed by Tom Shankland
(WAZ)
based on a screenplay by Paul Andrew Williams
(London To Brighton)