The Express trains (groan, sorry) its way to DVD in March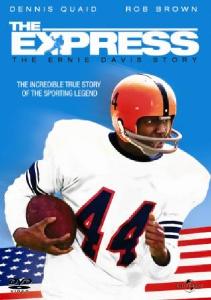 THE EXPRESS
THE EXPRESS IS AVAILABLE TO OWN AND RENT ON DVD
30TH MARCH 2009.
THE EXPRESS
IS BASED ON THE INSPIRATIONAL TRUE STORY OF SPORTING LEGEND ERNIE DAVIS, AVAILABLE TO OWN AND RENT FROM 30TH MARCH 2009.
Golden Globe nominee
Dennis Quaid
(
Vantage Point, The Day After Tomorrow)
and talented young newcomer
Rob Brown
(
Finding Forrester, Coach Carter
) star in the sports film of the year. From the writer of 'Blood Diamond' (
Charles Leavitt
) and the director of 'Runaway Jury' and 'Kiss the Girls' (
Gary Fleder
), comes the incredible true story of Ernie Davis, the first African-American to win the coveted Heisman Trophy, the highest accolade in American Football.
Raised in poverty in Pennsylvania coal-mining country, Davis (
Brown
) overcame seemingly insurmountable odds to become an unstoppable running back for the Syracuse Orangemen. Under the guidance of hard-nosed coach Ben Schwartzwalder (
Quaid
), a surrogate father to the young athlete and with a personal obsession to win a national championship, Davis would develop from an impressive high-school athlete into a legend.
While everyone agreed Ernie Davis was a miraculous football player with outstanding natural talent, few thought this quiet young man would become an icon for the burgeoning civil rights movement that divided America in the early 1960s. Refusing to play by the unspoken rules of the day that embraced racism as the norm, Davis stood defiant and broke through one barrier after another in his personal campaign to alter the way fans looked at men of his colour.
When he was suddenly struck down by a terrible blow in the prime of his life, Davis' spirit soared when most would crumble. Forcing his bull-headed coach to re-examine a life lived in colour-based privilege, Davis would join the ranks of black pioneers who inspired a movement that smashed prejudices both on and off the playing field. Witness the incredible and moving journey of how one player's determination and the love and dedication of his coach changed the game of American professional football forever.
Based on this astonishing true story with outstanding performances from an all-star cast,
THE EXPRESS
bears witness to some of the best football action sequences on film and will inspire and move you when it arrives on
DVD
on
MONDAY 30TH MARCH 2009
…
CAST AND CREW
Rob Brown
Ernie Davis
Dennis Quaid
Ben Schwartzwalder
Darrin Dewitt Henson
Jim Brown
Omar Benson Miller
Jack Buckley
Nelsan Ellis
Will Davis, Jr.
Charles S. Dutton
Willie 'Pops' Davis
Justin Martin
Young Ernie Davis
Justin Jones
Young Will
Nicole Beharie
Sarah Ward
Aunjanue Ellis
Marie Davis
Elizabeth Shivers
Elizabeth Davis
Clancy Brown
Roy Simmons Sr.
Director Gary Fleder
Screenwriter Charles Leavitt
FEATURE TECHNICAL INFORMATION - DVD
UK Release Date: 30th March 2009
Copyright: Film © 2008 Universal Studios and IDEA Filmproduktiongesellschaft mbH & Co. KG.
All Rights Reserved.
DVD RRP Price: £15.99 RRP
Running Time: 124 mins


Rating: PG