Flawless Hits Shelves in March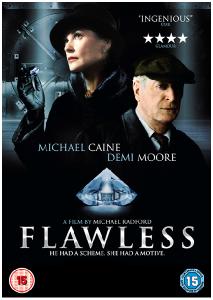 FLAWLESS
"A great cast and a clever premise" - Empire
"A real sparkler" - Glamour
"An exquisitely shot heist homage" - Teletext
"Ingenious" - Star
OUT ON DVD FOR THE FIRST TIME IN THE UK FOLLOWING A NATIONWIDE THEATRICAL RELEASE
DVD Release date: 30th March 2009
Running time: 85 minutes
DVD RRP: £15.99
Cert:
15
STARRING TWO OF HOLLYWOOD'S MOST ICONIC STARS - DOUBLE OSCAR WINNER SIR MICHAEL CAINE & DEMI MOORE
DIRECTED BY MICHAEL RADFORD (
IL POSTINO, MERCHANT OF VENICE
)
Laura Quinn (Demi Moore) is a bright, driven and beautiful executive at the world famous London Diamond Corporation. Laura is frustrated by a glass ceiling after years of faithful employment, as man after man is promoted ahead of her despite greater experience.
Observing Laura's frustration, unassuming night cleaner Hobbs (Michael Caine) convinces her to help him execute an ingenious plan to steal a huge quantity of diamonds. But unbeknownst to Laura, Hobbs plans to go even further than he has let on, and together they set in motion a thrilling heist of dizzying proportions, the likes of which London has never seen. Out for the first time on DVD in the UK.
SPECIAL FEATURES
Trailer
Director's Commentary
Behind The Scenes Featurette
Deleted Scenes