Lakeview Terrace out to buy on DVD and Blu-Ray this Month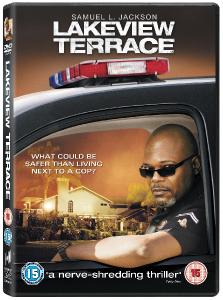 Lakeview Terrace
Available to buy on DVD, Blu-ray and UMDTM Video / rent on DVD
30th March 2009
Hollywood heavyweight SAMUEL L. JACKSON stars in the edgy and provocative thriller
Lakeview Terrace
, released on DVD, Blu-ray and UMDTM Video on 30th March 2009, courtesy of Sony Pictures Home Entertainment. Unnerving and intelligent with a scattering of edge-of-your-seat action
Lakeview Terrace
explores the social boundaries of real life.
Directed by acclaimed writer / director NEIL LABUTE (The Wicker Man, In the Company of Men)
Lakeview Terrace
boasts knockout performances from the cast, which includes SAMUEL L. JACKSON (Freedomland, Pulp Fiction), PATRICK WILSON (Watchmen), JAY HERNANDEZ (Quarantine, Hostel) and KELLY WASHINGTON (The Last King of Scotland).
When a young couple moves into their dream home in California, the dream soon turns into a nightmare when they become a target of their next-door neighbour who disapproves of their inter-racial relationship. LAPD officer and self-appointed neighbourhood watchmen Abel Turner (JACKSON) increasingly harasses the newlyweds until his persistent intrusions into their lives cause the couple to fight back with devastating consequences.