Seventh Season of Classic Comedy Bewitched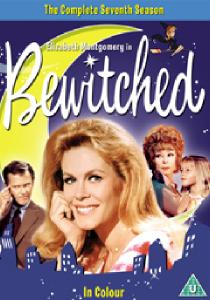 Bewitched - Season 7
Available to buy on DVD
2nd March 2009 The magic never stops for the Stephens family! Season 7 of the much-loved TV series
Bewitched
is out to buy as a four disc box set on DVD from 2nd March 2009, courtesy of Sony Pictures Home Entertainment.
ELIZABETH MONTGOMERY leads an enchanting cast of series regulars, including DICK SARGENT, AGNES MOOREHEAD and ERIN MURPHY, in another 28 episodes of this bewitching comedy classic.
This season, Samantha is off to Salem, Darrin is off to jail falsely accused of stealing a bedpan, Esmerelda takes an original Paul Revere teapot, Endora changes Darrin into an old man, Tabitha meets a real live fairy and Serena's up to no good - just another day on Morning Glory Circle!
PRODUCT INFORMATION
Bewitched - Season 7
Release Date 2nd March 2009
Format Retail DVD
DVD RRP £34.99
Certificate U
Genre TV Comedy
Running Time 702 mins approx