New Yamaha Micro Systems deliver big sound and big feature set including fully integrated iPod docks
New Yamaha Micro Systems deliver big sound and big feature set including fully integrated iPod docks
Yamaha is now shipping its acclaimed new highly compact M-430 - an excellent micro system offering high quality sonic performance matched by a wide range of features and functionality at a highly competitive price. This will shortly be complimented by the launch of the superb M330, which will be shipping from May.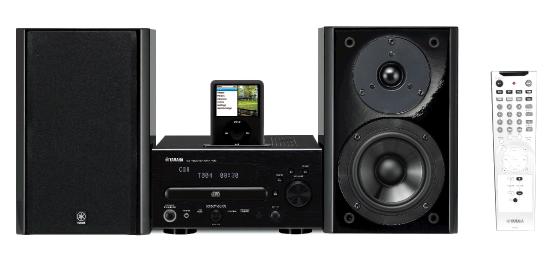 Delivering a big 25W of power per channel, complimented by superb performance from the speaker system - the M-430 offers CD, MP3 and WMA playback and also functions as an AM/FM and DAB radio, but the big plus is the superb integrated iPod dock located atop the main unit.
Providing full iPod functionality the M-430 allows you to browse all the iPod's menus through the excellent display via the remote control and provides superb sonic capability with a quality warm and detailed sound.
The system also offers subwoofer and digital optical outputs and phono outputs and inputs.
In summary, a superb addition to Yamaha's award-winning audio- visual line-up with great I Pod functionality, bursting with Yamaha high quality performance matched by extensive features all at a great price.
Yamaha have also announced the very affordable M330 Micro System , for the music lover that demands a compact, stylish system with great sound at a great price.
The M330 holds a plug and play I-Pod dock on the top panel of the unit, which can be controlled directly from the remote, this is made extremely easy as the remote operates the same way as the I-Pod controls.
It also boasts a USB input, which you can plug in your memory device's (USB) holding MP3 and WMA formats and enjoy great quality sound from such small files, with the name of the files appearing on the main screen as they are played.
Featuring the same amplifier as its more expensive sibling this system delivers amazing sound quality and bass levels via the highly compact speakers, the 2-way drivers and can handle 90w of power.
The M330 also features an AM/FM and DAB radio with automatic preset tuning that selects the 30 strongest stations saving you from finding them manually.