Get Smart - Saving the World with Steve Carell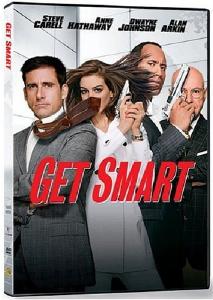 SAVING THE WORLD... AND LOVING IT!
"Suited and shooted" 4*
The Sun
"Not to be missed action comedy" 9/10
Daily Star
If you thought Bond was the ultimate secret agent, think again. Meet Maxwell Smart, aka Agent 86, whose mission is to take Control of KAOS and save the world.
Get Smart
brings together a host of Hollywood A-listers headed up by
Steve Carell
(
The Office, The 40 Year Old Virgin, Anchorman, Evan Almighty
),
Anne Hathaway
(
The Princess Diaries, The Devil Wears Prada
),
Dwayne Johnson
(
The Scorpion King, Southland Tales
),
Alan Arkin
(
Rendition, Marley & Me
),
Terrence Stamp
(
Wanted, Mr & Mrs Smith
),
James Caan
(
The Godfather, The Way of the Gun
),
Ken Davitian
(
Borat, Meet the Spartans
), and is directed by the
Peter Segal
(
Anger Management, 50 First Dates, The Longest Yard
).
Set for DVD release on
23 February 2009
courtesy of Warner Home Video,
Get Smart
isn't your average spy spoof story. It's a laugh out loud extravaganza of top notch special-effects sequences, thrilling stunt work and a wonderfully imaginative array of gadgets that would be the envy of any self-respecting spy. Check out the hilarious shoe phone, Swiss Army knife complete with flamethrower, blowgun and miniature titanium-threaded grappling hook, explosive dental floss and the 'cone of silence' to name a few.
As the infectious, super-intelligent, somewhat clumsy but ultimately pretty competent Smart, Carell is perfectly cast, allowing him to showcase his verbal wit and physical dexterity. His confident low-key style is complimented to perfection by the confident, consummate professional Agent 99 (Hathaway). With the calm and cool Chief (Arkin), the super-cool Agent 23 (Johnson), the menacing villain Seigfried (Stamp) and the inept Shtarker (Davitian) lending their priceless support, the only burning question left to tackle is - will Max
Get Smart
and take CONTROL of KAOS?
Synopsis
Maxwell Smart is an ever-eager research analyst at the headquarters of Control, a government security agency believed to have long been disbanded but remaining covertly active.
Super intelligent but incredibly clumsy, Smart has always dreamt of one day leaving his desk bound job and working in the field alongside stalwart superstar Agent 23. However, having passed all the necessary field exams he still fails to make the cut and under the orders of his Chief, Max's ambitions look a distant dream.
However, when Control is unexpectedly attacked, the identities of its secret agents are compromised and soon active field agents are being assassinated. Left with a depleted security force and few options the Chief has no choice but to designate Smart Agent 86. He partners him with the far more competent, lovely-but-lethal veteran sidekick Agent 99, assigned to show him the ropes.
They quickly discover that their enemy, responsible for the attack on HQ is the evil crime syndicate KAOS. Their leader is Control's arch-nemesis Siegfried. Accompanied by Shtarker they have been gathering nuclear weapons with the intention of selling them on the black market to unstable dictators who will wage war across the globe.
Given very little training and some spy-tech gadgets to help him do his job, Smart and Agent 99 are sent to put a stop to KAOS's plans but Max's lack of experience leads to a string of hilarious scenarios. They get closer to unravelling the evil master plan but KAOS remain one step ahead at every stage. Smelling a rat they soon discover that KAOS has an informer within Control. It's a race against the clock to stop them from fulfilling their doomsday plans.
- ENDS -
Release Information:

Release Date:
Monday 23rd February 2009

Credit:
Warner Home Video
Running Time:
DVD 105 mins / Blu-Ray 110 mins

Format:
DVD and Blu-Ray

Cert:
12 UK & Eire

RRP:
£19.99 DVD/ £26.99 Blu-ray

Cat No:
DVD: DY21614
Rental: RDY21614
BD: BDY17651
Barcode:
DVD: TBC
Rental: TBC
BD: TBC
Extras:
DVD
· Smart Takes (Alternate scenes you can view in situ within the film)
· Spy Confidential (Gag Reel)
· Language Lessons (Comic Piece)
BD
· All of the above! +
· The Old I-Hid-It-In-The-Movie Trick (Feature on hidden 'Get Smart' TV show references)
· The Right Agent For the Right Job (Steve & Anne Screen Tests)
· Max in Moscow! (Comic piece)
· The Vomit Reel
· Bruce & Lloyd Sizzle Reel