Quarantine out to buy on Blu-ray and DVD this march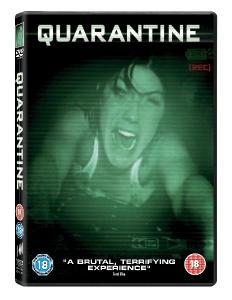 Quarantine
Available to buy on Blu-ray and DVD / rent on DVD
9th March 2009
First-rate fright-fest
Quarantine
is available to buy on DVD and Blu-ray on 9th March 2009, courtesy of Sony Pictures Home Entertainment.
A critically acclaimed remake of the cult hit [Rec],
Quarantine
stars JENNIFER CARPENTER (Exorcism of Emily Rose, TV's Dexter), JAY HERNANDEZ (Hostel, Lakeview Terrace), and JOHNATHON SCHAECH (Prom Night, That Thing You Do).
No details, no witnesses and no evidence - until now. Television reporter Angela Vidal and her cameraman are assigned to spend the night shift with an LA Fire Station. After a routine 911 call takes them to a small apartment building, they find police officers already on the scene in response to blood curdling screams coming from one of the apartments. They soon learn that a woman living in the building has been infected by something unknown. After a few of the residents are viciously attacked, they try to escape with the news crew in tow, only to find that the building has been quarantined…
A genuinely chilling and claustrophobic film that racks up the tension with stunning special effects and realistic hand-held camera work, this must-see horror is as scary as hell with a host of jumpy scenes.
Guaranteed to keep you on the edge of your seat, dare you see
Quarantine
?