The Raccoons - Season Two out this April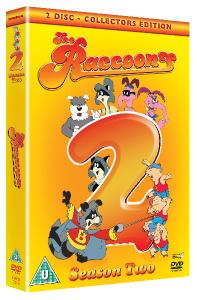 Fabulous Films
are proud to present
The Raccoons
-
Season Two
Available to own on DVD from 20th April 2009
2- Disc Collectors Edition
By far the best thing to come out of the 80's wasn't New Romantics, or break-dancing, or even leg-warmers it was "The Raccoons"!
All 10 Episodes from Season Two of this much loved, long running BBC 1980's cartoon series
SYNOPSIS
This is the Evergreen Forest…quiet .peaceful…serene. That is until Bert Raccoon wakes up. Luckily he has some good friends to help him out.
Life would be simple in the forest except for Cyril Sneer and his life would be simple except for The Raccoons!
DVD SPECIFICATION
Running Time: 233mins
Catalogue No: FHED2210
Barcode: 5030697012500
Certificate: U
Price: £19.99
DVD CONTENTS
All 10 Episodes from the second season
Behind The Scenes Documentary - (10mins)
Collectors Edition O-Ring Packaging
Collectors Booklet
Character and Crew Biographies
Motion Menus
Original Image Gallery
Original Character Rotations
Original Character Drawings
The Raccoons Season Two
is distributed by Fabulous Films and is available from all good DVD retailers from 6th April 2009.