Make it a magical Mother's Day with Miss Pettigrew Lives for a Day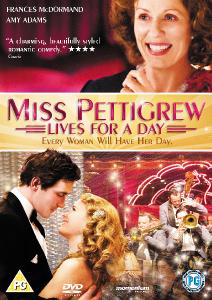 "A perfect movie for mum."
The Sun
"A charming 1930's Cinderella meets Sex and the City only faster, funnier and male-friendly."****
Empire
"Sparkling, stylish and very, very funny... dripping with old-school glamour... a feel-good delight..."
News of the World
"A charming, beautifully styled romantic comedy." **** Grazia
How much can anyone's life change for the better over the course of 24 hours? Two women are about to find out in the truly delightful
Miss Pettigrew Lives for a Day
, an inspiring Cinderella story for grown-ups. Featuring a sumptuous soundtrack that includes such classics as
Brother Can You Spare A Dime
,
Anything Goes
,
If I Didn't Care, Dream
and
It Ain't What You Do
(
It's the Way That You Do It
), this film is sure to make your day.
A perfect gift for Mother's Day,
Miss Pettigrew Lives for a Day
is out on DVD on
9 March 2009
and stars Academy Award winner
Frances McDormand
(
Fargo, Burn After Reading, North Country
) in the title role opposite Academy Award nominee
Amy Adams
(
Enchanted, Charlie Wilson's War, Junebug
). The superb cast also includes Golden Globe Award nominee
Lee Pace
(
Pushing Daisies, The Fall
),
Ciarán Hinds
(
Veronica Guerin, Hallam Foe, Road to Perdition
),
Shirley Henderson
(the
Harry Potter
films),
Mark Strong
(
Stardust
) and screen newcomer
Tom Payne
. A hugely entertaining screwball comedy set in glamorous 1930's London, the film was directed by
Bharat Nalluri
(
Spooks, Hustle, Life on Mars, Tsunami: The Aftermath
), written by
David Magee
(
Finding Neverland
) and Golden Globe winning
Simon Beaufoy
(
Slumdog Millionaire,
The Full Monty
) and is based on a novel by Winifred Watson.
Synopsis
When dowdy middle-aged governess Guinevere Pettigrew loses her latest job, her luck appears to have run out. Desperate for employment, she shows up at the plush flat of Delysia Lafosse, a glamorous nightclub singer whose desire for celebrity is only eclipsed by her interest in men. Delysia immediately calls on her new "social secretary" to help her juggle her numerous suitors. Finding herself catapulted into the dizzying social whirl of London's high society, every dream that Pettigrew had given up on becomes a reality for 24 hours.
Release information For further information
Release Date: 9 March 2009
Genre: Comedy/ Drama
Cert: PG tbc
Running Time: TBC
RRP: £17.99
Retail Cat. Number: MP867D
Retail Barcode: 5060116723489
DVD Extras: Deleted Scenes (09:07)
Miss Pettigrew's Long Trip to Hollywood (08:15)
Feature Commentary