Now that's music to your ears - Verbatim Launches new Headphones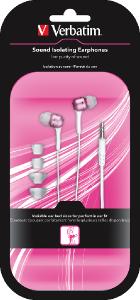 Verbatim has launched three high-comfort headsets for VoIP (Voice over Internet Protocol) telephony, and a series of eight earphones in three different designs for supreme listening on the go. All are now available: the headsets are priced between £12.99 and £19.99, and the earphones, from £9.99 to £14.99 (RRP).
Internet Telephony Headsets
Verbatim's new headsets offer the perfect equipment for VoIP via Skype, MSN or other providers. Paticular attention was paid to comfort during the development of the Multimedia Headphones, which features a flexible, adjustable boom microphone. The extremely lightweight Neck Band Multimedia Headphones make long conversations a joy, thanks to the way they are worn behind the head and the USB Multimedia Headphones will delight those gamers whose preference is for headsets. The USB Plug-and-Play feature enables connection to a PC or laptop within seconds and the control module can adjust the volume or set the microphone to mute.
Eight New Earphones
The eight new Verbatim earphones come in three models: SecureClip, Flexi Hook and Sound Isolating. SecureClip can be folded together when not in use, and their expecially soft ear padding makes them extremely comfortable to wear. The Flexi Hook earphones provide individually adjustable clips for a stable position behind the ears to ensure the device will not move when running, cycling or working out at the gym. Verbatim's Sound Isolating earphones bring peerless sound quality to the market. Their special, snug-fitting shape prevents the infiltration of noise from the surroundings, thus guaranteeing unadulterated music enjoyment. The Sound Isolating earphones are also available in an enhanced black version with separate loudspeaker control as well as a gold-plated jack for an even better sound experience.
"According to GfK, the softphone market will grow by an average of 42.8 per cent by 2013. We are meeting this tremendous demand in the private and in particular the professional sector with our new headsets and earphones," says Mats Nordin, Accessories Business Development Manager EUMEA.
Overview of features:
Headsets
· Multimedia Headphone" £19.99
· Neck Band Multimedia Headphone £14.99
· USB Multimedia Headphone £12.99
Earphones
· SecureClip"in three different colours and with especially soft ear padding £9.99, available in pink, green and white
· Flexi Hook with flexible arms for a stable position during sport £12.99
· Sound Isolating models for peerless sound quality in four different colours available in pink, green, white for£12.99 and a fine black version with separate loudspeaker adjustment plus gold-plated jack for an even better sound experience £14.99
About Verbatim
Since 1969, Verbatim has been shaping the development of data storage technology - from Floppy Disks and Magneto-Optical storage media, CD and DVD formats to the latest High Definition media Blu-ray. Moreover, Verbatim offers high quality products in the field of Portable USB Drives, Flash Memory Cards and External Hard Drives as well as a broad variety of computer Accessories. Verbatim is a subsidiary of Mitsubishi Chemical Group and benefits from the outstanding research and development department. With these innovations Verbatim has played a key role in shaping the storage media market. Ultra-strict quality controls during the manufacturing process ensure the high quality of Verbatim's products, which have been the winners of numerous international comparative tests. The company is the European market leader for Optical Media. For more information, please visit
www.verbatim-europe.com
.