The Duchess on DVD and Blu-ray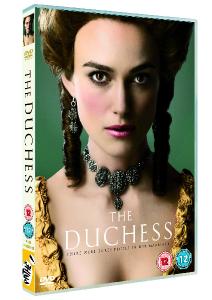 RELEASED ON DVD & BLU-RAY
IN TIME FOR MOTHER'S DAY!
16 MARCH 2009
"A ravishing feast for the eyes - and heart."
She


"A sumptuous, heart-breaking tale"
Grazia


"A fascinating study of marriage, morals and mores"
Marie Claire
"A triumphant Keira Knightley gives her best performance since Pride & Prejudice"
Daily Express
Release dates:
16 MARCH 2009
Certificate:
12
Runtime:
105 mins
Price (DVD):
£19.99
Price (Blu-ray):
£24.99
Official UK website:
www.theduchessmovie.co.uk
Featuring an award-winning and star-studded cast including Keira Knightley, Ralph Fiennes, Charlotte Rampling, Dominic Cooper and Hayley Atwell
,
THE DUCHESS
tells the story of the beautiful and glamorous Georgiana Spencer, the most fascinating woman of her time. The perfect gift for Mother's Day,
THE DUCHESS
is released to buy and rent on DVD and Blu-ray on 16 March 2009 from Pathé Distribution Ltd.
Like Princess Diana, her direct descendent, Georgiana Duchess of Devonshire (Knightley;
Atonement, Pride & Prejudice, Pirates of the Caribbean
) was beautiful, glamorous and adored by the public. But while her beauty and charisma made her a household name, one thing always seemed to escape her: love.
Beneath Georgiana's glamorous façade lay an intelligent, vulnerable woman stranded in a loveless marriage to the Duke (Fiennes;
The English Patient, Schindler's List
) one of the richest men in England. Frustrated by the limitations imposed on her by virtue of her sex and her class, she rebelled, entering into an intense relationship with the beautiful Bess Foster, thereby upsetting the cool balance of her marriage to the Duke and leading to a complex
ménage a trois
.
Georgiana's rebellion extended to the public sphere where she tore down the conventions of the day, becoming a political campaigner for the Liberal Party and galvanising the nation. In so doing she fell in love with Charles Grey, the future Prime Minister, finally discovering the meaning of true love. However, can true love survive the pressures of marriage and motherhood, of friendship and loyalty, of class and celebrity?
Based on the best-selling biography 'Georgiana, Duchess of Devonshire' by Amanda Foreman, and directed by Saul Dibb (
Bullet Boy
),
THE DUCHESS
is a very contemporary tale of fame, notoriety and the search for love. Shot on location in London, Chatsworth and Bath, the fashion and stunning stately homes are a feast for the eyes. Both the DVD and Blu-ray will contain special features that take you behind the scenes on this fascinating film, including a 'making of' documentary and deleted scenes - don't miss out on
THE DUCHESS
this Mother's Day.
Special features:
'Making Of..' documentary (40 mins)
Casting a marriage
Locations
A political woman
The empress of fashion
Adapting a biography
Deleted scenes with optional introduction by Saul Dibb
Photo gallery