Within These Walls - Complete Series from Network Video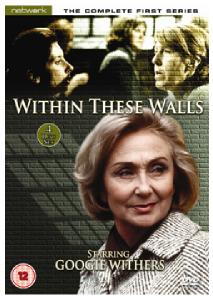 WITHIN THESE WALLS
THE COMPLETE FIRST SERIES (12)
Before

Cell Block H

and

Bad Girls

, there was WITHIN THESE WALLS - THE COMPLETE FIRST SERIES (12) of this original prison drama is available to buy on DVD for the first time on 16th February 2009, RRP £29.99.
WITHIN THESE WALLS offers an authentic portrayal of day-to-day prison life as well as the progress of the penal system, reflecting the shift from a Victorian ethos of punishment to an emphasis upon rehabilitation - a task that the newly appointed governor Fay Boswell (
Googie Withers - Shine
) takes most seriously. The series centres upon her attempts to liberalise the regime of Stone Park, H.M. Prison for women.
With a strong cast all on top form and an authentic, powerful script, WITHIN THESE WALLS remains a high point in the history of British television drama.
Special Feature:*
PDF script
****ENDS****
NOTES TO EDITORS
WITHIN THESE WALLS THE COMPLETE FIRST SERIES (12) is a Network releases
Release Dates: 16th February 2009
RRP: £29.99
Discs: 4
Running Time: 650 minutes (approximately)
Screen Ratios: 1.33:1 Colour



Episode Listing
:
Series One Disc One:
Cause for Concern, Lesson Number One, The Walls Came Tumbling Down
Disc Two:
In Her Own Right, Prisoner by Marriage, The Group
Disc Three:
One Step Forward, Two Steps Back, Failing to Report, Tea on St. Pancras Station
Disc Four:
Guessing Game, When the Bough Breaks, Labour of Love, A Sense of Duty