Thick as Thieves out in February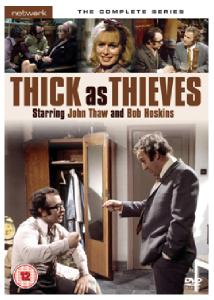 THICK AS THIEVES -
THE COMPLETE SERIES (12)
Network will release THICK AS THIEVES - THE COMPLETE SERIES (12) on 9th February 2009, RRP £14.99.
Bob Hoskins is George Dobbs; an out- of-luck, small-time burglar who has just finished a three - year jail sentence. After being released from prison one day earlier than expected, George makes his way home only to be greeted at the door by the sight of his best friend and fellow crook - Stan (
John Thaw - Home to Roost
). Not only is Stan at George's house, but he is clearly very at home as he answers the door covered in shaving foam and wearing George's pyjama bottoms. It does not take a genius to see that Stan takes his role as best friend as far as comforting the missus while the husband's away doing time. However, Mrs. Dobbs (
Pat Ashton - The Benny Hill Show
) cannot make up her mind. Instead of punching the lights out of each other, the two men also agree to a strange, ménage - a - trois living arrangement. Needless to say, hilarity ensues…
Starring two of the best loved actors of British television John Thaw and Bob Hoskins, this ITV sitcom is the brainchild of the legendary team of Dick Clement and Ian la Frenais (
Porridge, The Likely Lads
). The result is this funny series that is sure to entertain.
***
Ends***
NOTES TO EDITORS
THICK AS THIEVES - THE COMPLETE SERIES (12) is a Network Release
Release Date: 9th February 2009
RRP: £14.99
Total Running Time: 200 mins (approx.)
Screen Ratio: 1.33:1 Colour



Episode Listing


The Homecoming
George gets out of jail after three years only to find that his best friend Stan has shacked up with his other half, Annie. Despite throwing a bit of a wobbler, George can't get Annie to give Stan the boot
Happy Release
George gets the hump when Stan, confined to bed, gets bacon and egg from Annie for breakfast when he gets none. What neither of them knows is that Stan is playing up the extent of his injury...
Good Conduct
George, compelled to share a bed with Stan, takes him to task about his noisy sleeping habits. His day then takes a turn for the worse when a gentleman caller turns out to be a none-too-friendly policeman.
Two Men in My Life
Annie has a good rant at both George and Stan - she's had enough of both of them and decides to go and stay with a friend. An ex-cellmate of George's makes news headlines by breaking out of prison. George and Stan get an unexpected visitor...
The Trouble With Tommy
Escaped convict Tommy Hollister is still in residence and the police dragnet is closing in. George and Stan try to brainstorm a plan to get rid of him but they come up with nothing. Then they get the bright idea to embark on a criminal enterprise to fund Tommy's escape plans
Three Into Two Won't Go
Much to his outrage, George finds out by accident that Stan and Annie are going on holiday together. He has a go at both of them and gets aggrieved when Stan reckons that it's all George's fault, as he came out of prison too early...
Home and Away
Annie and Daphne large it up in Benidorm while George and Stan, at home, indulge in continuous rounds of domestic squabbling and one-upmanship. Stan suggests a truce, but it's an uneasy one and only lasts about two minutes before the fur starts to fly once more
Holy Deadlock
Annie accuses George and Stan of being low-rent criminals - not even worthy of an appearance on Police 5. George accuses her in turn of wanting them to go out and thieve to keep her in an extravagant lifestyle. Something has to give