Killswitch - Steven Seagal is back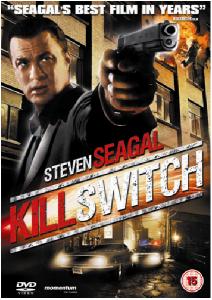 HIS
WAY, HIS RULES, NO EXCEPTIONS
Actor, musician, martial artist and philanthropist,
Steven Seagal
is a legend in his own lifetime. Arguably the worlds most popular and successful action star, most recently he has dominated the DVD charts, and the release of
Kill Switch
on
23 February 2009
will undoubtedly continue this trend. Available on both the DVD and Blu-Ray formats, the explosive
Kill Switch
is also written by Seagal. So step aside Sylvester Stallone, Chuck Norris, Arnold Schwarzenegger, Dolph Lundgren, Jean-Claude Van Damme and Bruce Willis - Seagal is back centre stage!
The penultimate film for Academy Award winner
Isaac Hayes
(
Shaft, South Park
),
Kill Switch
also stars
Holly Dignard
(
Flash Gordon, Stargate Atlantis/SG1
). Filled with a passion for fast-paced fight scenes and hard-edged characters,
Kill Switch
takes you into the dark, depraved Memphis underworld of street sex and senseless violence.
Synopsis
Detective Jacob Stillwell (Steven Seagal) is one of the most celebrated homicide detectives in the country. His brutal delivery of street justice is legendary among the men and women of law enforcement. But on this latest case, he may have finally met his match - Lazerus, a cunning and perversely violent killer who is on the loose and terrorizing the inner city.
Release information
Release Date: 23 February 2009
Genre: Action
Cert: 15 TBC
Running Time: 92m 29s (DVD) / *96m 12s (Blu-Ray)
DVD RRP: £15.99
Blu-Ray RRP: £24.99
Retail DVD Cat. Number: MP899D
Retail BR Cat. Number: MP899BR
Retail Barcode: 5060116723816