Metrodome release The Fifth Commandment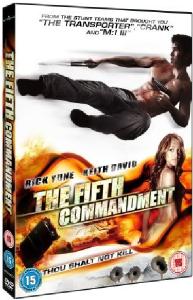 DVD Release date: 23rd February 2009
Running time: 89 minutes
DVD RRP: £15.99
Cert:
15
FROM THE STUNT TEAMS THAT BROUGHT FOR 'THE TRANSPORTER', 'CRANK' & 'MISSION IMPOSSIBLE III'
From the stunt teams that brought you "The Transporter", "Mission: Impossible III" and "Ong Bak", comes a high octane, mayhem-packed thriller featuring some of the greatest road and combat action of the decade.
Holed up on the mean streets of Bangkok, maverick assassin Chance (action icon Rick Yune of "Die Another Day" and the Wachowski Brothers' "Ninja Assassin") turns down a job he feels hits too close to home. But as he prepares to escape from Thailand, he discovers that he himself has been marked as a target.
With an innocent would-be victim in tow, Chance must use all his incredible skills as driver, hit-man, fighter and martial artist to escape his pursuers - the most elite members of the profession of which he was once master.
Buckle up for the action event of the year!
SPECIAL FEATURES
Trailer
The Stunts of The Fifth Commandment
The Making of The Fifth Commandment