The House Bunny out on Blu-ray and DVD from 9th February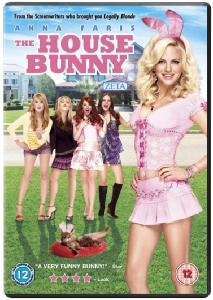 The House Bunny
Available to buy on Blu-ray and DVD / rent on DVD
9th February 2009
Unleash your inner bunny with the hilarious girl power comedy
The House Bunny
, available to buy on DVD and Blu-ray on 9th February 2009, courtesy of Sony Pictures Home Entertainment.
Rising star Anna Faris (
Scary Movie, Lost in Translation
) gives a breakthrough comic performance as Shelley, a clueless Playboy bunny who, after being unceremoniously kicked out of the Playboy mansion, takes a job as housemother to a group of socially awkward sorority girls on the verge of losing their house. The hilarious cast of
The House Bunny
also stars EMMA STONE (
Superbad
),COLIN HANKS (
Orange County
), KATHERINE McPHEE (TV's
American Idol
), RUMER WILLIS (
Now and Then
) and veteran comedians CHRISTOPHER MCDONALD (
Happy Gilmore
) and BEVERLY D'ANGELO (
National Lampoon's
series).
When the mansion's favourite bunny, Shelley (Faris), is kicked out of the hottest house in town, she gets lost in the wilderness of Beverly Hills. But when she stumbles into the sorriest sorority, Zeta Alpha Zeta, she finds a home where she can finally put her talents to good use. The race is on to transform the clueless girls and make Zeta the hottest house on campus.
This outrageous comedy arrives on DVD and Blu-ray with a host of great bonus features, including deleted scenes, the music video by Katharine McPhee "I Know What Boys Like" and twelve behind-the-scenes featurettes spotlighting the film's production, including "The Girls Upstairs," featuring Playboy's real life "Girls Next Door," and "House Bunny Style," about making-over the film's young female cast.
Special Features:
• House Bunny Style
• The Girls of Zeta
• Calendar Girls
• Anna Faris: House Mom
• The Girls Upstairs
• Colin Hanks: Mr. Nice Guy
• From Song to Set: Katherine McPhee
• From Tour Bus to Trailer: Tyson Ritter
• Look Who Dropped By
• Zetas Transformed
• Getting Ready for a Party
• House Bunny Memories
• I Know What Boys Like Music Video
• Introduction to 'I Know What Boys Like'
• Deleted Scenes