Anime Review Roundup
Another seven days have passed, and to paraphrase a Navigator from Dune, the anime must flow. Summer is usually the time for sales and bargains, and in the previous week, I've picked up the Appleseed remake for just a fiver from Play. Naturally that got me interested in the sequel, Appleseed Ex Machina that has just been released in the UK by Warner. You should never give anime to a big company; they never know what to do with it. You'd think that a Japanese film ought to have the Japanese dialogue, but Warner have left that out of the DVD, preferring to use the opportunity to reshape the market. Japanese dialogue for Appleseed Ex Machina comes only on Bluray. You may be tempted to go for Region 1, which as usual trumps the UK in disc specifications. Warner's US Ex Machina discs have Japanese language options in both HD and SD… But, dubtitles. With subtitles taken from the English track, you needn't bother with the Japanese language unless you speak it. It turns out that the only way that you'll get a literal translation of the Japanese dialogue is if you buy the Japanese R2 DVD, which is one of those rare Japanese discs with English subtitles. So I'm left stroking my original Appleseed disc from Optimum, a company that knows how to treat anime…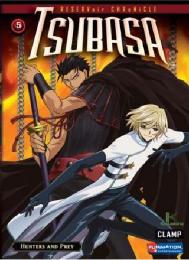 Another company that knows how to treat anime right is Revelation, and it's Revelation that supply both of last week's anime titles reviewed on the site. First up on Tuesday was
Tsubasa: Volume 5
, the penultimate volume in the first series of the dimension crossing anime adapted from CLAMP's manga. Likeable characters and an interesting story have made Tsubasa the sort of show that is perfect to introduce young fans to the anime medium. It's the sort of show that you wish would be on television on Saturday mornings, instead of what usually gets shown. You can read my thoughts on Volume 5 by clicking the link.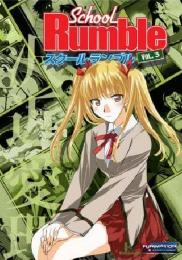 Then on Friday came
School Rumble: Volume 3
, offering another dose of comic relationship mayhem. It's a case of A loves B, but B loves C, and C loves curry. Volume 3 sees several other letters of the alphabet thrown into the mix, leaving most heads spinning. I love anime comedy, and I love it even more when it breaks out of the clichéd harem mould. I gushed like a waterfall over volume 1, and you can see if my tap of appreciation still flows by clicking you know what.
Both School Rumble and Tsubasa are out to buy on the 21st of July.